When my kids were small, they called the unfinished portion of my mom's basement "the scary room". It was sort of fitting, to tell the truth. Sorry, Mom! I'll make the assumption that you already know a basement that looks like the one in this photo is not going to help your house sell quickly at the highest possible price. Let me break down the scary room into a couple of components for you so it's not quite so scary!
1. Divide everything into 3 piles - Keep, Toss, Donate.
Box up the Keep pile so that's done. If you have a lot of boxes, you can store them in your unfinished basement. I'd suggest that you not line boxes right up against the walls, though, because you will be asked to move them so the building inspector can see the perimeter. Or you can store them off-site, at a storage facility. Or you could place them in your mom's scary basement until you move.
Toss can be easy if you plan for it. Check with your trash service to see if they can do a heavy or large pick-up for you. Or you can purchase great big dumpster bags online at Amazon, or at your favorite large hardware store. Once it's full, call the number on the bag and it will magically disappear.
I could mention that you can do this even if you aren't moving. (I am hoping my husband is reading this!)
Not quite as inexpensive, but less labor-intensive is a call to a business like "1-800-GOT-JUNK" All you have to do is the point, they do the rest.
Donate does not have to mean that you are going to make 23 trips to the Goodwill Store. I use a stager who has a long list of organizations that will come to your door and pack it all off for you. You could also post a message on Craigslist or a local message board, put stuff at the curb, AKA "Free Stuff Curb Alert", and watch it disappear. It's an option, but I get a little creeped out watching the dumpster divers of the world stalking the driveway!
2. Change the light bulbs to the brightest wattage your basement fixtures will allow.
3. Sweep the floor. Get out the vacuum with attachments, and attack the cobwebs along the joists and band boards. While you are up there, look for shelter tubes that signal termites. If you see them, I promise, it's not the end of the world. Call a good pest control company. Get 3 estimates for treatment, and get it treated. This is what it might look like: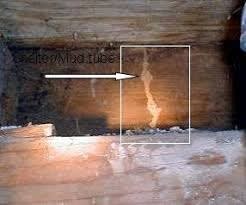 (Shameless Realtor plug, your agent should have a couple of good pest control companies they could recommend.)
4. Have your furnace and A/C serviced. Take the attachment to your vacuum and clean the outside of the HVAC and the hot water heater. Your prospective buyers won't stand back admiring what a clean and shiny hot water heater you have, but the buyers and their inspectors will see systems that have been cleaned and checked, with no immediate maintenance or repair issues.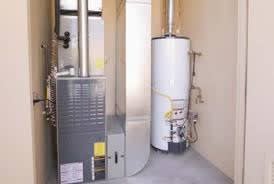 5. Got Cracks? Many basement cracks are of no structural concern, but wouldn't you rather know that sooner than have to worry about it all the way through buyer inspections? There are lots and lots of foundation companies that are great. There are also lots and lots of companies that will sell you a whole lot of foundation repair you don't need. If a crack leaks on occasion you can have it epoxy injected, with a good long warranty that should satisfy most buyers. The repair will look like this: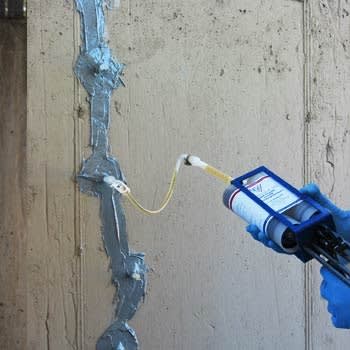 Which is better than this: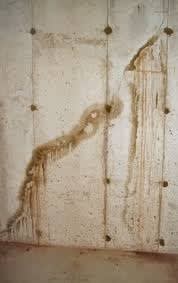 This is where a good realtor is a good resource as well, with some reputable recommendations for you. If a buyer sees a leaky crack, you can count on them asking you to fix it if it doesn't scare them off in the first place, so get it done ahead of time, and have a good warranty for the work in place. You don't need to lose sleep over this, I promise!
Even if you are never ever moving, until you head out the door feet first, it wouldn't hurt to roll through all these market-ready chores now and again. Your children would really appreciate it when the time comes! In the meantime, live with a little more simple and a little less scary room.