Let's start with the master suite because let's face it, the kids' bedrooms are harder to get clean and staged (and keep clean and staged, for that matter!)
A master bedroom should appear to be an oasis, a retreat, a quiet restful place for the grownups in the house. In reality, if your kids are small, it's like a giant ark where everyone seems to congregate. If your kids are older, or if you don't have kids, the master bedroom might be the room you just close the door on most days, because who besides you goes in there, right?!
But let's pretend for a minute that this is a perfect world. What would your bedroom look like? Color should be calm and restful soft gray, icy blues, a really soft and neutral calm color. Check out some ideas on a great site called Houzz by searching bedroom colors. But don't pick up that paintbrush without consulting a stager or an agent if you are thinking of moving, because neutral means something different if you are staying then it does when you are selling!
A fresh comforter and lots of pillows, a couple of nice lights, a classy-looking book that will make buyers think you are awfully smart. That's all you need! All the jewelry, earring backs, magazines, safety pins, the sock hiding under the bed, all that can go where it really belongs. Layered bedding does a lot to dress up a bedroom, and easy sources are Target, HomeGoods and Steinmart. Where do you think you'll get a good night's sleep?
Here?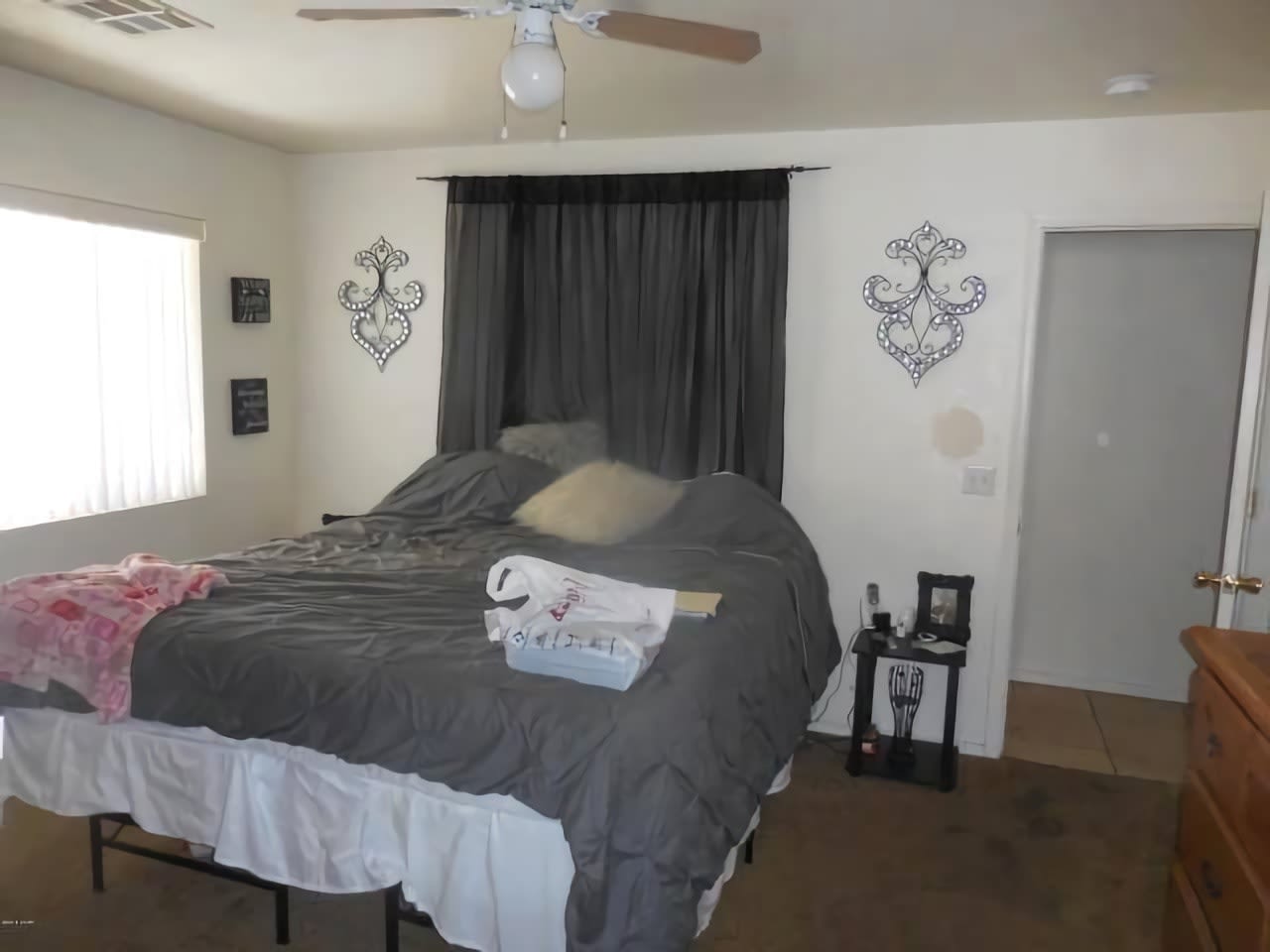 Or here?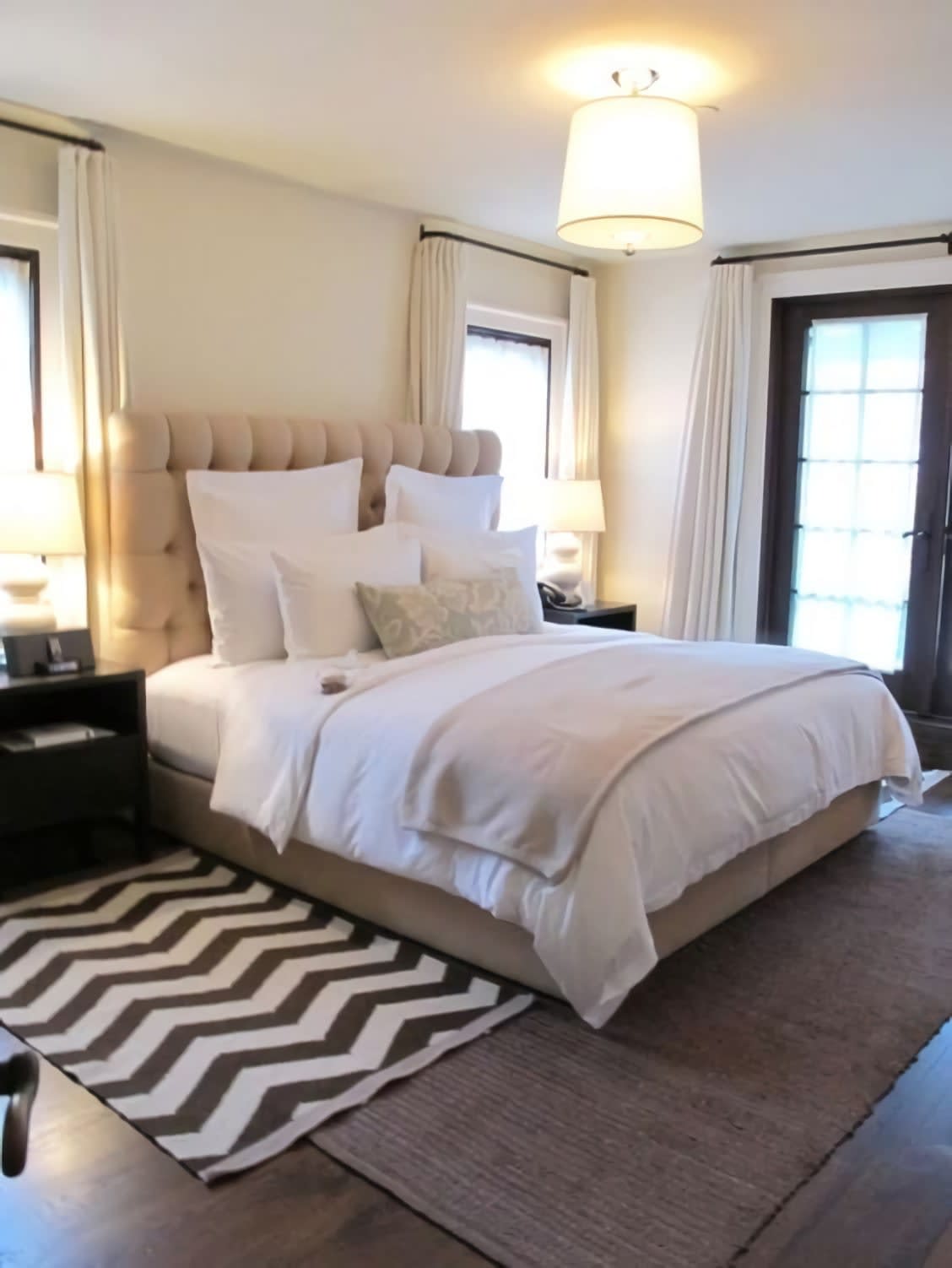 Now let's talk about kids' rooms! If you live in a kid-friendly house, in a kid-friendly neighborhood, chances are pretty good that someone with kids will buy your house. With that in mind, I don't think you need to put a lot of effort into neutralizing secondary bedrooms and erasing all signs that there are munchkins about.
It's really about packing up clothes and toys into a box that won't be unpacked until you move! Your life will be so much easier if you pack it. Otherwise, you will be racing around picking everything up every time someone wants to see your house. Thin out books and display the ones that aren't all dog-eared. Make ample use of bins, they can hide a multitude of all that stuff that accumulates in a kid's room.
There are those toys that your child simply cannot do without. Keep a laundry basket handy and when you have a short notice showing, toss everything in that, and put that basket somewhere like inside the dryer, in the back of your car you get the idea!
And then, there are Legos. I recently had a seller who probably spent more time packing up legos than on any other 1 thing on her list as they readied to come on the market. Check out this link, I think you can find something here that will work for you.
You are going to have to put away some toys that you think your children will miss. It's ok when you unpack in your new house, it will be like Christmas morning as they reunite with all their old friends.
As in each of these posts, I have to repeat that you should tackle 1 room at a time. You will get more accomplished and have a better sense that you HAVE accomplished something than if you scoot from room to room!